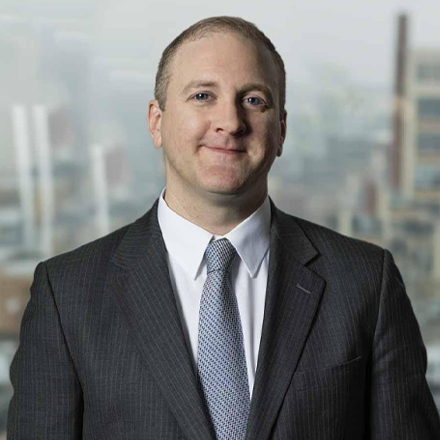 Patrick A. Costello
Attorney
Offices: Wilmington, DE | Media, PA
Mr. Costello's practice focuses primarily on construction law, complex commercial litigation, business litigation, alternative dispute resolution and contract formation.
Mr. Costello's litigation experience includes first chair and second chair trial work plus taking the role of lead counsel on oral arguments for motions and negotiating contracts and settlements. He primarily represents clients throughout Delaware, Pennsylvania, and New Jersey courts, but has handled matters concerning several other jurisdictions as well.
EXPERIENCE
After law school, Mr. Costello clerked in the Court of Common Pleas of Pike County, Pennsylvania (2002-2003) and in the Delaware Superior Court in Wilmington, Delaware (2003-2004) for Judge Jan R. Jurden (now President Judge).
After his clerkships, Mr. Costello spent several years in the litigation department at a large law firm where he focused on complex commercial and corporate litigation, regularly representing clients before the Delaware Superior Court, the Delaware Court of Chancery and the U.S. District Court for the District of Delaware, while also working on state and federal cases and appeals in Pennsylvania, New Jersey and other jurisdictions.
During that time he handled a variety of matters, including cases involving breach of fiduciary duty claims, director and officer liability, minority shareholder oppression, advancement and indemnification of company officers, limited liability company and partnership disputes, shareholder and partner derivative actions, books and records demands, piercing the corporate veil and real estate litigation.
Immediately prior to joining Dailey LLP, Mr. Costello practiced at construction law boutique Venzie, Phillips & Warshawer for over twelve years, where he regularly represented contractors, subcontractors, suppliers, construction managers, sureties and owners (public and private, including large universities and public school districts) in construction litigation, mediation, arbitration, claim resolution and in the preparation and negotiation of contracts.
Mr. Costello's representations have included issues such as construction defects, mechanics' liens, "prompt pay laws" and construction payment disputes, breach of contract, unjust enrichment / quantum meruit, delay claims, professional liability of architects and engineers including design errors and omissions, requests for equitable adjustment, change order disputes, extra work claims, bid protests, bid preparations, defective work, breach of warranty, indemnity, unfair trade practices and consumer protection laws, insurance coverage disputes, Article 2 sales, Right to Know and Freedom of Information Act requests and responses thereto, integrated project delivery, procurement, RACP (Redevelopment Assistance Capital Program) grants, claims on behalf of and against condominium associations and real estate developers, plus advice on contract formation, AIA (American Institute of Architects) forms and purchase order terms.
ORGANIZATIONS
Delaware State Bar Association (DSBA) – member of Litigation Section and the Alternative Dispute Resolution ("ADR") Section; Elected to the Executive Council of DSBA's Litigation Section (2015-16, 2016-17, 2017-18, 2018-19, 2019-20, 2020-21, 2021-22, and 2022-23 terms);
Certified by the DSBA as a Mediator and a Commercial Law Arbitrator;
Pennsylvania Bar Association – former member;
American Bar Association – former member, Section of Litigation, Section of Dispute Resolution, and Forum on Construction Law; and
Delaware Contractors Association.
RECENT SPEECHES
November 2018 – Panel speaker for a webinar presentation to the Construction Management Association of America (CMAA) on the comparison of litigation, arbitration and mediation.
RECOGNITION
Selected by peers as one of the Top Lawyers for 2021 and 2022 in Construction Law, as published by Delaware Today magazine. Learn more about the selection process here.
Selected as a Pennsylvania "Rising Star" by Super Lawyers in the category of Construction Litigation, as published in Philadelphia Magazine and Pennsylvania Super Lawyers, 2016. Learn more about the selection process here.
BAR ADMISSIONS
Delaware
Pennsylvania
New Jersey
FEDERAL COURT ADMISSIONS
U.S. Court of Appeals for the Third Circuit
U.S. District Court for the District of Delaware
U.S. District Court for the Eastern District of Pennsylvania
EDUCATION
Dickinson School of Law of Penn State University, Juris Doctor, 2002.
Bucknell University, Bachelor of Arts in History, Minor in U.S. Studies, 1999.