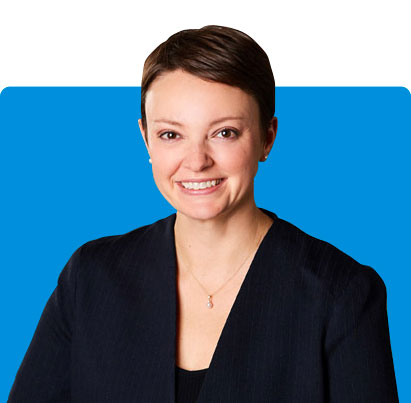 Our role is to counsel clients on effective and practical legal solutions.
Erin Hanlon has extensive experience with litigation involving complex civil matters for clients in the healthcare, pharmaceutical, insurance, and technology industries. Erin joined Dailey LLP after eight years at the Federal Judiciary, where she served as the career law clerk for the Honorable Late Marilyn Heffley, United States Magistrate Judge for the Eastern District of Pennsylvania. During her clerkship, Erin advised on cases in a variety of areas of law from initial pleadings through trial. She also served as a Staff Attorney for the United States Court of Appeals for the Third Circuit where she worked on federal appellate matters. Prior to her experience working for the Federal Judiciary, Erin spent seven years in the litigation practice group at a large international law firm in Philadelphia. Erin uses her experience and variety of perspectives – as an advocate, clerk, and appellate staff attorney – to counsel clients on effective and practical litigation strategies.
Drawing from her experience at the Federal Judiciary where she was involved in and advised on all stages of a case, from initial pleadings through trial and appeal, Erin navigates clients through the development of legal strategy in all phases of litigation. Erin also has extensive experience defending clients in matters involving consumer and healthcare fraud, unfair trade practices, commercial and contract disputes, product liability, and violations related to the federal Anti-Kickback Statute and False Claims Act. Her past work has included defending a group purchasing organization and specialty drug distributor in a case alleging violations of the Anti-Kickback Statute and False Claims Act; defending pharmaceutical clients in litigation involving alleged unfair sales and marketing practices, off-label promotion, Medicaid/Medicare compliance, and federal and state price reporting obligations; and representing a global medical technology company in a Foreign Corrupt Practices Act investigation of its sales and marketing practices.
Beyond Dailey
Erin and her husband have two children and a family dog. Erin enjoys traveling with her family, supporting local community-based organizations, and shuttling her kids around to their many activities.
Federal Court Admissions
U.S. District Court for the Eastern District of Pennsylvania
Education
The University of Virginia School of Law, Juris Doctor, 2008
The University of Pennsylvania, Bachelor of Arts in English, magna cum laude, 2004
Clerkship
The Honorable Late Marilyn Heffley, the United States District Court for the Eastern District of Pennsylvania