Dailey LLP is proud to announce that our Co-Founder, Gay Parks Rainville, was honored on November 13, 2019 at the American Bar Association's 2019 Women in Litigation Conference as one of "100 Women Who Inspire Us."  The honorees at the Chicago event consisted of top women litigators from across the country.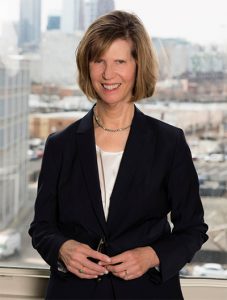 The ABA Profile of Gay featured at the conference stated:
"During her 30 year legal career, Gay has done it all, including becoming a top large law firm litigator (Pepper Hamilton), transitioning to valued in-house counsel (Children's Hospital of Philadelphia), and then back to large law firm litigator (Pepper Hamilton) and practice group leader (co-head of Securities Litigation Group), and now as the co-founder of a business litigation boutique that is majority women owned (Dailey LLP)."
When asked about this recognition and her accomplishments as a top litigator, Gay stated:
"I am honored to receive this recognition.  Having had the good fortune to work with stellar litigators who mentored me over the years, it is rewarding to know that I, too, may have inspired other attorneys to realize their own potential.  I am especially excited about this newest chapter in my career as I believe the unique law firm model we are creating at Dailey LLP will enable my colleagues and me to provide clients with exceptional legal services at a tremendous value.  I hope my role as a co-founder in this exciting venture will encourage other litigators to think outside the box when considering the ways in which they can most efficiently deliver high-quality services."
Dailey LLP congratulates Gay on her recognition and how her excellent work continues to raise the profile of our law firm.  We are excited that our clients benefit every day from the deep experience and tremendous value that Gay brings to each matter.